"I Will Fix Your Car Count in 17 Minutes… Guaranteed!
…and it will take you less than 15 minutes a week to use this simple strategy to get car count in your shop
tomorrow!
In the interest of complete transparency, you should know that an associate read the final draft of this eBook. You may even know him. He claimed that this is "…probably the

most powerful piece of auto shop marketing information

about how to

instantly increase your car count

that's been released in the last 15 years!"
Then he told me I was crazy for selling it this cheap!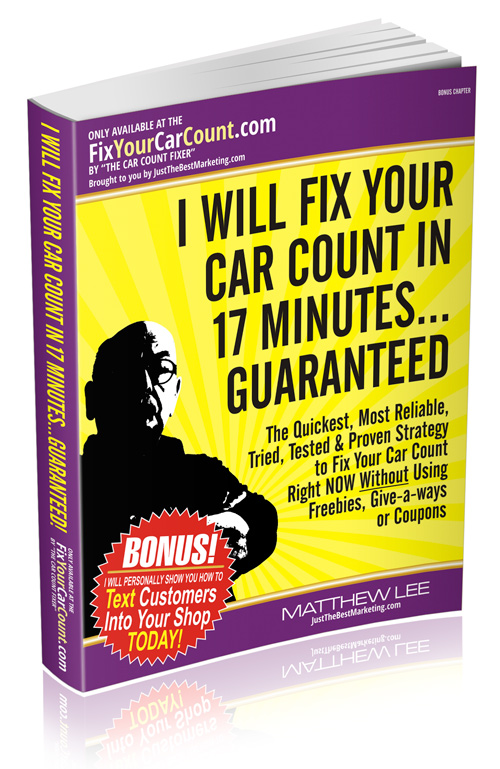 Don't Wait! Get Started NOW!
Click the "Buy from 2CO" button below and
fix your car count!
2Checkout.com Inc. (Ohio, USA) is a payment facilitator for goods and services provided by Perma International, Inc..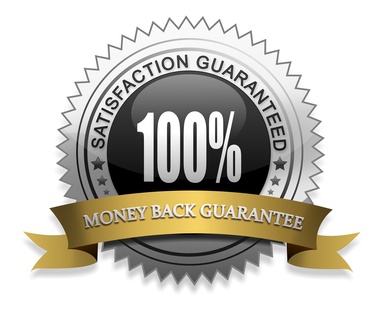 Now YOU can fix your car count in less than 17 minutes… Guaranteed!
Dear auto shop owner,
Every auto repair shop owner I speak with struggles with getting more car count. Do you?
Are you tired of the 'feast or famine' days? Not knowing where your next repair order is coming from?
The shop owners I talk with have tried everything from postcards and direct mail… to coupons and discounts… or even mailing out "bogus checks" that give away all the profit before the job even starts.
Some shop owners even tried those coupons on the back of grocery store cash register tapes or even pizza box ads.
The sad truth is most never get enough response to even cover the costs of the advertising. In fact, most shop owners tell me that they don't get any response at all!
Are you tired of literally 'burning your hard earned dollars' on advertising that never works? When it comes to marketing your auto repair shop, do you struggle trying to figure out where to start?
Don't you think it's about time that you use a simple strategy that actually works… and gets results… and profits? And by the way, a strategy that does it all within days?
If you've answered 'yes' to the above, then this will be the most important book you will read this year.
The solution to getting car count in today's new economy is to use the strategies that work today. This one simple, little know strategy  that I provide in my eBook has been tried, tested and proven in countless repair shops across America.
More important than that, it's worked in virtually every repair shop that's used it!
Now you could build your car count without money sucking discounts, coupons or give-a-ways that rip the profit out of every repair order.
Do you realize that according the most recent statistics from the US Census and the Bureau of Labor Statistics, 12,336 independent auto repair shops are expected to fail this year alone!
When asked about why their repair shop failed, the primary reason shop owners said was that they "Couldn't Get Enough Car Count".
Don't you become a victim too!
My name is Matthew Lee. I'm the author of "The Official Guide to Auto Service Marketing", the creator of "The Auto Shop Owner's Unfair Advantage" and the guy smart shop owners just call "The Car Count Fixer".
I've helped countless repair shop owners fix their car count and help them make the money they know they deserve.
In one case, a shop owner followed one simple suggestion I made and added over $22,138 to the bottom line in the first year alone. What kind of family vacation could you have with an extra $22,000?
Other shop owners told me about increases in their car count and profits by just using one or two simple changes like that.
When it comes to using the exact same strategy that I detail in this book, one shop owner reported "…an almost 100% response rate!", not to mention a bunch of repair jobs that kept the shop busy for days. And the funny thing is that it took him less than 15 minutes to do!
Another shop owner told me this strategy "DOES WORK EXTREMELY WELL!!" (Caps and exclamation marks are the shop owners!) What he likes best is that he's not giving away discounts and freebies that eat up all the profit.
Yet another shop owner told me the only problem he's got with using this strategy is that some days he runs out of parking space for all the cars!
In this eBook titled "I WILL FIX YOUR CAR COUNT IN 17 MINUTES… GUARANTEED!", I reveal the details and give you the step-by-step strategy that's been proven to fix car count instantly and automatically! When you order this eBook, you'll discover…

 The dark side of auto repair shop marketing. I reveal the lies and myths about auto shop marketing that you've been told.

The 3 Rules about making more money and increasing your car count that you can't ignore

The reality about your biggest and most important asset (Page 12) You'll be surprised!

Three HUGE mistakes shop owners make with their marketing – and don't even realize! (Page 8)

How to use the most basic service to fix your car count – and I even detail why it works so well

The complete step-by-step details to fix your car count – it's as simple as 'paint-by-number'

I'll show you exactly how to get started fast and fix your car count NOW!

I reveal a "little known trick" that over 98% of shop owners will never know about and don't use to build car count immediately

How to put your car count on 'Steroids' with my incredible FREE BONUS Valued over $249.00 – Yours FREE if you act now. (This is so valuable I can't tell you what it is right now – but I promise you'll get car count within a day!)

Plus simple 'Fill-in-the-blank' templates so you can get started right away – and a complete detailed explanation of why this strategy works so well.
Don't Wait! Regular $47. Now Only $12.97
Get it NOW! Click the "Buy from 2CO" button below
and fix your car count!
...BUT THIS CRAZY PRICE WILL NOT LAST! THIS OFFER GOES AWAY...
2Checkout.com Inc. (Ohio, USA) is a payment facilitator for goods and services provided by Perma International, Inc..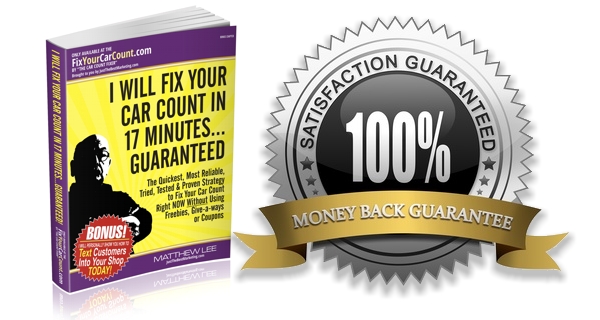 Plus, your satisfaction is fully guaranteed. If you're not 100% delighted, simply let me know within 90 days.
I'll refund your purchase in full without question or quibble. And you can keep the e-book free – my way of saying "thanks" for giving my material a try. That way, you risk nothing.
To order "I Will Fix Your Car Count in 17 Minutes… Guaranteed!" on a risk-free trial basis, just click the "Buy from 2CO" button
2Checkout.com Inc. (Ohio, USA) is a payment facilitator for goods and services provided by Perma International, Inc..
So Why did I release this information
and why is it so cheap?
I did this for three important reasons.
First of all, I've helped a lot of shop owners fix their car count and they've paid me very well, thank you.
I consider myself 'blessed' because I truly enjoy what I do. In part, this is my way of 'giving a little back' to the industry I've worked in for the last 30 years.
Secondly, I know how much this can instantly and automatically change your car count. I wanted to make sure it's affordable for every shop owner.
Thirdly, I won't give it away for free because I want to discourage the "Freebie Seekers". If you're not willing to invest a little bit into your business, then why should I, right?
Grab your copy now at this crazy introductory price before I take it down and lock it in 'the vault'.
Act Now and You'll Get This Totally FREE BONUS worth over $249
Okay, call this a spoiler alert if you want to. The real 'secret sauce' is that my strategy uses 'text messaging' to put customers in your shop tomorrow.
Right now, you're probably thinking something like "I don't have a way to text message customers!" (or you don't know how to set one up).
Don't worry, I'm going to give you a totally FREE, totally UNLIMITED Private Text Messaging Number so you can see for yourself! You'll get totally UNLIMITED access to your own private Text Message Number on the First and Original GO-MO Auto Shop Text Message Marketing System. (Be aware of the copy-cats! GO-MO is the first and original auto shop text message system… and proven the best!)
Is it hard to use? Don't worry. If you can answer e-mail and surf the internet, you can send text messages!
Now ask yourself, "Who else would do that for you?" Nobody! I checked!
© Copyright 2016 – JustTheBestMarketing.com – All Rights Reserved